ISM non-manufacturing data shows growth for the 22nd straight month
The ISM's index for measuring the sector's overall health—known as the NMI—was 53.0 in September, down 0.3 percent from August. A reading above 50 represents growth.

Jeff Berman, Group News Editor
·
October 7, 2011
The Institute for Supply Management (ISM)'s Non-Manufacturing Report on Business for September indicated that the non-manufacturing sector grew for the 22nd consecutive month.
The ISM's index for measuring the sector's overall health—known as the NMI—was 53.0 in September, down 0.3 percent from August. A reading above 50 represents growth.
The September ISM Manufacturing Report on Business, which was also released this week, increased 1.0 percent to 51.6.
Three of the NMI's four core metrics were up in September compared to August. Business Activity/Production was up 1.5 percent at 57.1. New Orders were up 3.7 percent at 56.6, and Employment dropped 2.9 percent to 48.7.
"I was pleasantly surprised when this data come in, especially with the contraction in employment," said Tony Nieves, chair of the ISM's Non-Manufacturing Business Survey Committee, in an interview.
He added that a 3.5 percent decline in Supplier Deliveries along with the nearly 3 percent dip in Employment pulled down the NMI, which would have been much stronger if both metrics had cracked the 50 percent mark.
This most recent batch of data, said Nieves, suggests that current business conditions on the non-manufacturing side are good but are hindered by a lack of long-term visibility to see if things will remain that way.
"Part of that has to do with the jobs picture," he said. "It is almost like companies are caught in a vortex because there is a lot of 'wait and see' type feeling out there due to the uncertainty out there, with companies holding back on hiring and staff numbers," said Nieves. "The only thing that will change that is stronger levels of business activity and new orders, because they won't have the capacity. That is evidenced by a slight growth in Backlog of Orders [up 5.0 percent in September to 52.5]. Inventories [down 2.0 percent in September to 51.5] are tight, but Supplier Deliveries are 0.5 percent below the 50 baseline. Down the road, the capacity may not be there if the numbers keep growing, and this may push companies to start hiring. Time will tell in that regard."
Despite the NMI showing growth for the 22nd straight month, comments from ISM survey respondents portend feelings of uncertainty about the economy.
A respondent in the accommodation and food services sector noted that there is no trust in the federal government to do what is needed. Another respondent in the educational services sector said that the 2012 outlook is not optimistic, with little sign of an improved economy that will spur growth, investment or expansion.
Nieves said that the possibility of slow, incremental growth, as noted in the ISM's semiannual report earlier this year, is what is currently occurring, whether it is in the form of sideways momentum or slight upticks.
Looking ahead, Nieves said that data from September to October is in a way a telltale month as to coming off of the summer, with September a pivotal month, too.
"You are coming off a summer where everything has been down, with business closures and lulls in activity, and even though it is seasonally-adjusted there seems to be a general slowdown in the summer months," said Nieves. "There is a little bit of an uptick in the fall followed by the holidays and then followed by a January lull. October is truly going to tell us how the holidays will be and how the rest of the year will finish up."
October 7, 2011
Latest Whitepaper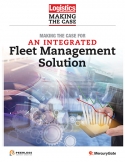 Making the Case for an Integrated Fleet Management Solution
Fleet management technology can drive positive supply chain and business results. Explore this special edition of Making the Case where we lay out the benefits of integrated fleet management technology in your organization.
Download Today!
From the October 2017 Logistics Management Magazine Issue
Q4 2017 Rail/Intermodal Roundtable: Improvements apparent; work remains
LM Viewpoint: Collaboration, Now more than ever
View More From this Issue
Latest Webcast
The State of the Rail/Intermodal Markets
In this webinar our panel will discuss the new service challenges facing rail/intermodal providers and offer practical advice for how shippers can keep efficiency high and costs down.
Register Today!