Other Voices: Using cost to serve analysis to drive flow strategies
Inventory it in-house? Drop ship from a supplier? Just what does it cost to serve a customer?

Latest News
State of Logistics 2016: Pursue mutual benefit
Cass Freight Index Report indicates the freight recession appears to be over
FedEx's Smith again leads push for twin 33s, truckload carriers again push back
New legislation calls for key changes to be made to NAFTA
DAT says spot market activity dips in January from December while posting annual gains
More News
Latest Resource
Advance your career with the fastest growing logistics certification – APICS CLTD
Thursday, March 2, 2017 | 2PM ET
All Resources
By
Francis Tomany, senior director, Manhattan Associates
·
October 3, 2012
Editor's Note: The following column by Francis Tomany, senior director at Manhattan Associates, is part of Modern's Other Voices column. The series, published on Wednesdays, features ideas, opinions and insights from end users, analysts, systems integraters and OEMs. Click on the link to learn about submitting a column for consideration.
In today's complex world, supply chain managers have multiple options to get products to customers. Do I fully leverage my distribution center and stock inventory there for subsequent replenishment to forward DCs or stores? Do I cross-dock products as they come in? Or do I bypass my DC altogether and have my supplier directly deliver to forward DCs or stores? The critical inputs to making these decisions are service level goals/commitments and cost. But service level and cost are in a natural tension with one another.
As a supply chain manager I have to balance service level with cost and do so in a way that makes my merchants (in a retailer) or sales force (in a wholesaler distributor) just as happy with service levels as my CFO is with my cost containment efforts. Not an easy task. It's not easy because, in truth, the right answer as to which flow strategy to use varies by type of item and even by item itself.
This is because the characteristics of the different items may drive different types of cost and drive them to varying degrees. For example, for an item that requires special handling or preparation I have to decide where I can get that work done most cheaply – by the supplier (if I can negotiate that), in my DC or at a store, and that in turn may affect what strategy I pick to flow the item through my supply chain. Another item may not have special handling/preparation needs and so a different flow strategy may be appropriate for it. And this problem is growing according to Aberdeen Group, due to a 20% the rise in the use of these multiple distribution strategies in the retail industry alone since 2009.
How then do I determine the cost of each flow strategy so that I can make a decision that meets my service level goals at the lowest cost? That's where cost to serve analysis can help.
Cost to serve analysis involves looking at the granular costs that go into acquiring an item from a supplier and transporting, storing and handling it throughout my inbound and outbound supply chains up to the point that the customer takes it off my hands. These costs can include purchase order cost, ocean freight, import duties, trade finance fees, local drayage, line haul cost to my DC, labor receiving, labor pick, pack and ship, DC overhead, outbound transportation, store receiving labor and inventory carrying cost. Cost to serve analysis attempts to get to a total cost to serve by identifying and capturing each of these costs, figuring out how to apportion shared costs down to the unit level of each item involved and aggregating the results into useful metrics that drive decision making. These useful metrics are typically unit cost for an item at a DC, unit cost of an item as delivered to a given customer, unit cost of an item from a particular supplier – and so on.
The challenge with cost to serve analysis is that in order for it to be truly efficient and scalable to all of your items it needs to be an automated process. And because costs constantly vary what was a good flow strategy for an item at one time may not now be the optimal strategy so your cost to serve analysis needs to be continuously updated.
How do you scale cost to serve analysis and do it on a continuous basis? First, you need to think about how your supply chain systems capture cost and then you need to feed those costs into a cost apportionment engine for ultimate storage in a data warehouse. Then you need to think about the types of analysis tools that your supply chain folks would need to analyze the data based on the types of questions they are trying to answer.
The real advantage of implementing a cost to serve process inside your company is that the types of questions it can answer go beyond simply helping pick flow strategies for items. It can also help your logistics managers pick routes and modes on the inbound side or evaluate whether to go prepaid or collect. And it can help your DC managers expose what drives their costs so that they can collaborate with merchants or sales to reduce them. And even beyond the supply chain it can directly help your merchants or sales force determine where to source from and what terms to negotiate with suppliers. That makes cost to serve analysis strategic for your company.
And that's pretty cool!
October 3, 2012
About the Author
Bob Trebilcock Bob Trebilcock, editorial director, has covered materials handling, technology, logistics and supply chain topics for nearly 30 years. In addition to Supply Chain Management Review, he is also Executive Editor of Modern Materials Handling. A graduate of Bowling Green State University, Trebilcock lives in Keene, NH. He can be reached at 603-357-0484.
Subscribe to Logistics Management Magazine!
Subscribe today. It's FREE!
Get timely insider information that you can use to better manage your entire logistics operation.
Start your FREE subscription today!
Latest Whitepaper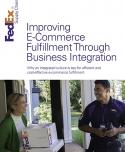 Improving E-Commerce Fulfillment Through Business Integration
As e-commerce continues to outpace conventional retail, companies of all sizes are finding ways to disrupt traditional business models and seize market share.
Download Today!
From the February 2017 Issue
Carrier Consolidation Keeps Shippers Guessing
Getting Value from the Cloud
View More From this Issue
Latest Webcast
Advance your career with the fastest growing logistics certification – APICS CLTD
During this webcast presenters will give an overview of APICS and the new Certified in Logistics, Transportation and Distribution (CLTD) designation. Learn how the CLTD program can help you stay on top of current trends and advance your career.
Register Today!