ProMat 2017 expands into two halls; ready to hold record number of exhibitors, attendees
With more than 900 exhibitors, a record number, there's bound to be plenty of innovation and ideas on hand to help attendees "Solve for X" at the materials handling industry's premier trade show and educational conference, sponsored by MHI.

Logistics in the News
New ATA report takes a deep dive into the ongoing truck driver shortage
New U.S. Bank Freight Payment Index report shows strong momentum for freight spend and shipments
JLL research cites benefits of e-commerce in driving U.S. industrial real estate market to new highs
New Supply Chain Technology Best Practices
Brokers, 3PLs scrambling to offer shippers deals in 'simmering' tight capacity TL market place
More Logistics News
Logistics Resource
New Supply Chain Technology Best Practices
New breakthrough developments, such as drones and driverless vehicles, seem to be everywhere.
All Resources
By
Sara Pearson Specter
·
April 3, 2017
At 10 a.m. Monday morning, ProMat 2017 welcomes more than 38,000 visitors to explore the solutions that will keep their supply chains moving forward in not just one, but two different McCormick Place halls—both North and South—spanning a total of 375,000 square feet. With more than 900 exhibitors, a record number, there's bound to be plenty of innovation and ideas on hand to help attendees "Solve for X" at the materials handling industry's premier trade show and educational conference, sponsored by MHI.
Additionally, ProMat includes more than 100 on-show-floor educational sessions in multiple theaters spanning both halls, the co-located Automate 2017 expo, four keynotes, a special education and networking session for women in the supply chain, the release of the Material Handling & Logistics U.S. Roadmap 2.0, and formal and informal networking opportunities.
Spread over four days, ProMat exhibits showcase solutions from industry, commerce and government and can be found throughout the show floors in six different solutions centers. In acknowledgement of increasing interest in automation and environmentally friendly solutions, for the first time the North Hall—directly across the Grand Concourse Hallway from the entrance to the South Hall—will host ProMat's two newest solutions centers: Autonomous Vehicles and Sustainable Facility Solutions. These new solution centers will feature exhibits and educational sessions on these topics held in adjacent open-air theaters, indicated by industry as being of key importance.
The Autonomous Vehicles solutions center features automated storage and retrieval systems (AS/RS), automatic guided vehicles (AGVs), driverless trucks, delivery drones and automated cranes. The Sustainable Facility Solutions exhibits will showcase alternative and renewable energy and fuel, recyclable and returnable packaging, efficient lighting and temperature control systems, power regeneration technologies, sustainable facility planning services, and other energy-efficient equipment and sensors. Also within the Sustainability Solutions Center will be the Reusable Packaging Association (RPA) Pavilion, comprised of RPA members. Further, RPA has developed a series of presentations exploring the latest developments reusable packaging.
"After ProMat 2015 concluded, we reviewed the exit surveys of attendees and noted that many were particularly interested in autonomous vehicles and sustainability in material handling solutions," said George W. Prest, CEO of MHI. "We put a specific focus on those two topics to address those findings. Plus, they tie in beautifully with our co-located show partner, Automate 2017."
Registered ProMat attendees not only gain full access to both North and South exhibit halls, but also free entry into Automate 2017, also housed in the North Hall, Prest said. Like ProMat, Automate is held just once every two years, and for the fourth consecutive time, MHI and the Association for Advancing Automation (A3)—and its trade associations: the Robotic Industries Association (RIA); AIA, the global association for vision and imaging; and the Motion Control & Motor Association (MCMA) —have partnered up to cover nearly 450,000 square feet of exhibition space.
"There's synergy between the two shows, as solutions providers from the supply chain and material handling, logistics and transportation fields continue to integrate automation into their products and services," he said. "Having both shows together makes the event a one-stop destination, allowing attendees to maximize their time and their travel budget."
Further helping attendees accomplish as much as possible during their time at ProMat, more than 100 free educational sessions will also be offered in the South Hall. There, nine enclosed, on-floor theaters can be found, along with four additional solutions centers:
Manufacturing & Assembly: Products and solutions that boost efficiency in manufacturing and assembly operations.
Fulfillment & Delivery: Showcases solutions for order fulfillment, order picking and packaging, third-party logistics, warehousing, distribution or transportation.
Information Technology (IT): Highlighting solutions and consulting services that support or are integrated with, manufacturing, warehousing, logistics and supply chain processes.
The Knowledge Center: Offering resources in on-show floor theaters to educate and build awareness of what the materials handling and logistics industry has to offer the supply chain as a whole.
This year, ProMat features four keynote addresses, three of which start before the show floors open. The first runs this morning from 8:45 a.m.– 9:45 a.m. in the McCormick Place South Grand Ballroom, Room S100, and features a panel discussion entitled "Building Supply Chain Sustainability for Competitive Advantage: Lessons learned from leaders in innovative facility design."
Led by sustainability expert Andrew Winston, author of "Green to Gold," panelists include Tamara Barker, chief sustainability officer and VP of environmental affairs at UPS; Randoph Bradley, technical fellow in supply chain management at The Boeing Company; and Rick Bingle, VP of supply chain at REI. The four will discuss how large and small companies can use environmental strategy to grow, create enduring value and build stronger supply chains. Attendees will learn how these leading brands have successfully incorporated environmentally sound practices into their facility designs and how it is driving efficiency and cost savings.
Tomorrow morning, from 8:45 a.m. – 9:45 a.m. in the McCormick Place South Grand Ballroom, Room S100, Markus Lorenz, partner and managing director of The Boston Consulting Group will share "Industry 4.0 – How intelligent machines are transforming supply chains." As he did in his recent TEDtalk, Lorenz will present insights into the fourth industrial revolution and how machines infused with intelligence will transform the ways manufacturing and supply chains work. Included will be an overview of the impact of Industry 4.0 on our industry, the economy and the new kinds of jobs it will create.
On Wednesday, the first of two keynote presentations unveils the key findings of the "2017 MHI Industry Report," conducted in partnership with Deloitte Consulting. This keynote panel will be led by George Prest, CEO of MHI, and Scott Sopher, principal at Deloitte Consulting, from 8:45a.m. to 9:45 a.m. in the McCormick Place South Grand Ballroom, Room S100. Panelists representing leading firms will join Prest and Sopher to highlight the report findings and discuss the real-world impact digital solutions are having on supply chains. More than 1,000 manufacturing and supply chain professionals were surveyed for this report and were asked how these solutions have and will impact their operations over the next five years.
The second Wednesday keynote, from 1:00 p.m. to 2:00 p.m. in the McCormick Place South Grand Ballroom, Room S100, aims to score a slam dunk with speaker NBA legend Earvin "Magic" Johnson, today a successful businessman and entrepreneur. In "The Power of Magic: Know your customer and where they are going," the current chairman and CEO of Magic Johnson Enterprises will share how his core focus on customer service and dedication to bringing jobs and high quality products and services to underserved communities has made his the No. 1 brand in urban America, valued at $1 billion.
Presented by MHI in conjunction with the Material Handling Equipment Distributors Association (MHEDA) and Achieving Women's Excellence in Supply Chain Operations, Management and Education (AWESOME), the new "Women in the Supply Chain Industry Forum" will be held Tuesday from noon to 4:30 p.m. in Room S102BC in the South Hall. The interactive event features discussion, education, panel and speaker presentations, and networking for women within the supply chain field. Paid pre-registration is required, and can be completed on promatshow.com or at ProMat Attendee Registration on Level 3 of McCormick Place.
For those looking for new ideas on how to better recruit, develop and retain high potential employees and future leaders, MHI will present "Closing the Skills Gap: Innovative Talent Solutions for a Changing Workforce." The session, presented by David DeLong, president of Smart Workforce Strategies, will be held on Tuesday in South Hall Theater F from 3:45 p.m. to 4:30 p.m. DeLong will discuss how to prioritize talent-related risks, identify the seven talent problems that kill profits, and how to accelerate knowledge transfer in the multigenerational workplace.
Also debuting at ProMat, the latest edition of the Material Handling & Logistics U.S. Roadmap 2.0 will be released on Tuesday in an on-floor education seminar from 2:15 p.m. to 3:00 p.m. in Theater F in the South Hall. In the presentation, "Get Ready for the Next 10 Years in Material Handling and Logistics," insights from the Roadmap 2.0 report and action plan (the next generation of the original Roadmap, published in January 2014) will help the supply chain industry determine how it needs to change between now and 2030. The ultimate outcome is to grow jobs, increase America's global competitiveness and advance our standard of living. The document can be downloaded at no charge at MHLRoadmap.org.
For attendees seeking additional networking opportunities, MHI's Young Professionals Network (YPN) will host a Meet and Greet reception in Room S102D of McCormick Place South on Tuesday evening. Running from 5:00 p.m. to 6:30 p.m., the event is open to current and prospective members of the group as a chance to network and connect with other young professionals in the materials handling and supply chain industry. The free event does not require registration.
What does require registration, and pre-purchased tickets ($50 each), is MHI's Industry Night. Held on Wednesday, from 4:30 p.m. to 7:00 p.m. in the McCormick Place South Grand Ballroom, Room S100, the event includes networking, a chance to win a luxury package "Trip of a Lifetime" for four valued at $30,000 (see official rules at promatshow.com/rules), and the presentation of the three 2017 Innovation Awards, the 2017 MHI Young Professionals Awards and the 2017 Face of the Supply Chain Award. Entertaining the crowd will be Saturday Night Live alumnus and Emmy Award-winning comedian Dana Carvey. Tickets can be either purchased or picked up by presenting an email confirmation of online purchase on promatshow.com at ProMat Attendee Registration on Level 3 of McCormick Place between 8 a.m. and 5 p.m. A portion of the ticket sales will be donated to the Material Handling Education Foundation Inc. (MHEFI).
Information about all ProMat-related events can be accessed on the official ProMatShow app. The app offers an interactive map of both exhibit halls, exhibitor search, educational sessions search and information about the four keynotes. Attendees can also access their personalized agenda using the mobile app. Available free at both Android and Apple app stores, downloading information can be found at promatshow.com/app.
Get ready to stroll the ProMat 2017 aisles and learn more about the latest supply chain and materials handling solutions that help companies "Solve for X."
April 3, 2017
Subscribe to Logistics Management Magazine!
Subscribe today. It's FREE!
Get timely insider information that you can use to better manage your entire logistics operation.
Start your FREE subscription today!
Latest Whitepaper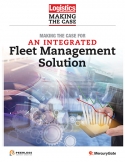 Making the Case for an Integrated Fleet Management Solution
Fleet management technology can drive positive supply chain and business results. Explore this special edition of Making the Case where we lay out the benefits of integrated fleet management technology in your organization.
Download Today!
From the October 2017 Logistics Management Magazine Issue
Q4 2017 Rail/Intermodal Roundtable: Improvements apparent; work remains
LM Viewpoint: Collaboration, Now more than ever
View More From this Issue
Latest Webcast
The State of the Rail/Intermodal Markets
In this webinar our panel will discuss the new service challenges facing rail/intermodal providers and offer practical advice for how shippers can keep efficiency high and costs down.
Register Today!