Subscribe to Magazine and eNewsletters
Begin or renew your FREE subscriptions to the market-leading magazine and eNewsletters from Logistics Management.

FREE Magazine Subscription
FREE eNewsletter Subscriptions
Logistics Management keeps logistics and supply chain professionals up-to-date on the latest news and trends in transportation services, equipment and technologies. Learn how to dramatically improve the management of your supply chain and logistics operations with the cost savings ideas and solutions you'll read about when you subscribe to Logistics Management.
Contact Customer Service
Email: [email protected]
Phone: 1-847-559-7581
Fax: 1-847-564-9453
Mail: Peerless Media, PO Box 677, Northbrook, IL 60065-0677
Latest Whitepaper
B2B Sellers Prefer a Unified Approach for Ecommerce
A new study from Forrester Consulting, commissioned by NetSuite, found that many midmarket, B2B sellers say their ecommerce solutions have contributed to their growth in sales, new customer acquisitions and improved customer relationships.
Download Today!
From the August 2016 Issue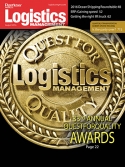 Megatrends in ocean freight
Ocean Cargo Roundtable: What's in store for 2017?
View More From this Issue
Latest Webcast
Getting the most out of your 3PL relationship
Join Evan Armstrong, president of Armstrong & Associates, as he explains how creating a balanced portfolio of "Top 50" global and domestic partners can maximize efficiency and mitigate risk.
Register Today!