Top 30 U.S. Ports 2017: Preparing for the uncertain
The advent of new carrier alliances and "big ship readiness" will determine which of the top ports gain share and supply chain advantages. Meanwhile, logistics managers must hedge their bets to mitigate risk and avoid reliance on a handful of key gateways.

Patrick Burnson, Executive Editor
· May 2, 2017
Port authorities are always being told to prepare for the uncertain, but this year ushers in a whole new set of challenges.
For example, while the expanded Panama Canal locks went into operation in mid-2016, the impact of that development has yet to be fully measured, say analysts for Fitch Ratings LTD, a nationally recognized investment consultancy.
However, Fitch analysts note that port capital improvements continue to center on capacity enhancements to accommodate larger container ships being routed through Panama, and for the even more massive "mega" vessels on all-water routes. At this stage, nine ports have water depths sufficient to handle post-Panamax ships: Los Angeles; Long Beach; Oakland; Seattle; Tacoma; New York/New Jersey; Norfolk; Baltimore and Miami.
"Our research did not come to many unexpected conclusions," says Stacey Mawson, a director at Fitch Ratings. "Dockside and terminal performance across the sector was mixed last year due to the Hanjin bankruptcy that created a backlog that has largely been cleared."
However, Mawson adds that renegotiated trade agreements or newly implemented tariffs under the Trump administration could result in changes to import and export volumes, along with the relative importance of affected trade routes. Furthermore, United States withdrawal from the Trans-Pacific Partnership may adversely affect cargo volumes. "The full effect of any changes would extend beyond 2017," says Mawson.
To help gauge the possible scenarios, Fitch Ratings maintains 16 stand-alone revenue-backed ratings across 15 U.S. ports and also rates ports where debt is supported by tax revenues. Based on the its most current data, the outlook for U.S. port ratings is "stable." The "A" category remains the most common rating for stand-alone U.S. ports, reflecting the sector's relatively low credit risk and the resilience of cash flows despite volume fluctuations during economic downturns.
"Hanjin effect"
The sudden and unexpected collapse of one major state-supported carrier last year traumatized an already fragile ocean carrier community. That shock quickly spread to the U.S. ports served by the world's leading vessel operators.
According to Panjiva, an online search engine with detailed information on global suppliers and manufacturers, "the Hanjin effect" can be seen most starkly in the drop in volumes at Long Beach and Seattle last year. Both gateways hosted the failed carrier's terminal operations and lost business to their sister ports—Los Angeles and Tacoma—respectively.
"Other ports have plenty of reasons to celebrate despite this big setback," says Chris Rogers, Panjiva's research director. "Overall, import handling still increased 2.5% on 2016 over 2015," he says.
The growth in Savannah and Houston can be explained by the opening of the Panama Canal extension, notes Rogers, who adds that Charleston probably saw a benefit, too. Miami, meanwhile, lost share to other ports in Florida, while the "niche" Port of Philadelphia continues to steadily climb in the Top 30 rankings.
Changing partners
Meanwhile, carriers are changing partners after bankruptcy, acquisitions and consolidation roiled container shipping last year. Eleven of the world's largest container shipping lines have come together in three new alliances, reflecting an industry-wide effort to cut excess vessel capacity and trim costs. For most ports, this means fewer carriers making regular scheduled calls. This does not alarm many industry insiders, however, who say that cargo volumes will remain about the same—or even increase as Mega vessels displace smaller ships used for deployments in the past.
Inland ports partner with coastal gateways to gain competitive edge.
The impact of the expanding Panama Canal is now even being felt in America's heartland, as a recent strategic alliance points out.
Just this spring, the Board of Commissioners of the Port of New Orleans and the St. Louis Regional Freightway entered into a memorandum of understanding (MOU) to exchange market and operational information with the goal of growing trade and building upon existing and new business relationships between the two regions and critical ports. The agreement also calls for joint marketing efforts to meet those objectives.
According to Mary Lamie, executive director of the St. Louis Regional Freightway, the MOU is the culmination of discussions begun during a September 2016 visit to St. Louis by the top official for the Port of New Orleans.
"At that time, it became evident that it would be mutually beneficial to foster even greater collaboration and leverage the intermodal connectivity between the Port of New Orleans and the St. Louis region," says Lamie.
Located in the Lower Mississippi River system and served by all six Class 1 railroads and the interstate highway system, New Orleans is arguably one of the most "intermodal" ports in the nation.
Analysts with CargoSmart Limited, a global management software provider for the logistics community, say based on proforma schedules provided by the new alliances that service disruptions should be manageable through peak season.
"For ports that are accommodating larger vessels, there may need to be greater adjustments in berth windows for the greater volume of cargo," says Lionel Louie, CargoSmart's chief commercial officer. "We may see initial frequent updates to carriers' sailing schedules as the alliances deploy the ships on the new services. He adds that most of the major U.S. ports will have fewer visiting vessels for each alliance service. In addition, the average vessel size by TEU capacity for the alliance services will increase at most of the Top 30.
"With the expected number of alliance vessels on the trans-Pacific and trans-Atlantic trades visiting these ports decreasing by 17% and the average alliance vessel capacity increasing by 5%, we anticipate that the new alliance services will be operating overall less capacity at the top ports," says Louie.
Great Lakes shipping forecast is promising
Logistics managers reliant on the Great Lakes/St. Lawrence Seaway system were encouraged by a recent forecast for steady growth as the shipping season got underway last month.
"Certainly there was a big improvement in the last quarter of 2016 with the resurgence of iron ore pellet exports out of the U.S. and a strong grain season," says Bruce Burrows, president of the Chamber of Marine Commerce. "We expect that positive momentum to continue with overall cargo volumes increasing this year."
Vanta Coda, executive director of the Duluth Seaway Port Authority, is equally bullish. "The overall feeling in the Port of Duluth-Superior is positive, and 2017 is shaping up to be a building year to regain traffic," he says.
Coda adds that coal should stabilize, iron ore should be up and he believes that his port has the opportunity to do well with grain shipments again this year. "We're expecting a middle-of-the-road season in terms of project cargo, though we could be surprised to the upside," he adds.
Jeff Fleming of the Port of Milwaukee says that they're anticipating another busy year as well. "We expect volumes of inbound raw material for manufacturing and outbound agricultural products to be strong in 2017."
The Port of Detroit is among those with new projects on the horizon. "We expect to execute an agreement with the U.S. Army Corps of Engineers for a dredging project on the Rouge River to deepen the channel to 25 feet," says John Loftus, executive director of the Port of Detroit. "We also anticipate the opening of a new general cargo terminal in Detroit."
The Port of Green Bay, meanwhile, expects to see increases in limestone and petroleum this year. In 2016, petroleum product imports were up 1,421% as a result of a pipeline shutdown, that had severed Northeast Wisconsin. These imports are expected to rise as the pipeline shutdown continues.
"Based on the 2016 results, I'm looking forward to this shipping season as the industry continues to be the most cost-effective method of transportation for commodities," says Dean Haen, director of the Green Bay Port. "We want to capitalize on that to expand the movements of diverse cargo.
At the individual level, those that are expected to have more visiting vessels and with greater average TEU capacity could see an initial impact on operations as they adjust to the possible new volumes, he cautions.
Transhipment concerns
Executives at Navis, a cargotech company specializing in software solutions for port terminals, comes to the same conclusion as Louie. "There's going to be a need for more terminal software optimization and training for sure," says Raj Gupta, chief technology officer for Navis. "We can see that the complexity of the ocean cargo supply chain is placing new pressures on landside operations and yard management of containers."
This, in turn, creates problems for logistics managers who might not have complete control of port terminal preference. Analysts for the London-based maritime consultancy Drewry note in their latest "Ports and Terminals Insight" report that new alliances have thrown a wrinkle into the situation. "Our analysis shows that even when a shipping line has a significant stake in a terminal, it doesn't necessarily mean that the port is selected for the network schedule," says Neil Davidson, a Drewry analyst for ports and terminals.
"Carriers have to bear in mind the preferences of shippers for major ports, but we were surprised that carriers have not paid much attention to the transhipment hub, which is entirely within their control."
This analysis also shows that individual lines are not entirely in control of their own destinies when it comes to port choices, as partner lines in their alliances may have conflicting port choice preferences and particular "idiosyncrasies," Davidson says. "Even if alliance partners have corresponding port preferences, there's still potential for conflict at the terminal level if more than one line in an alliance has interests in different terminals at the same port," says Davidson.
He adds that even if a terminal operator brings in a shipping line as a joint venture partner, there is no guarantee of securing an alliance's volume.
About the Author
Patrick Burnson, Executive Editor Patrick Burnson is executive editor for
Logistics Management
and
Supply Chain Management Review
magazines and web sites. Patrick is a widely-published writer and editor who has spent most of his career covering international trade, global logistics, and supply chain management. He lives and works in San Francisco, providing readers with a Pacific Rim perspective on industry trends and forecasts. You can reach him directly at
[email protected]
Subscribe to Logistics Management Magazine!
Subscribe today. It's FREE!
Get timely insider information that you can use to better manage your entire logistics operation.
Start your FREE subscription today!
Latest Whitepaper
Travel Time Forecast Infographic
Combining traffic speed insight with highly localized weather forecast data to help more accurately predict travel time.
Download Today!
From the November 2018 Logistics Management Magazine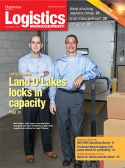 Land O'Lakes lock in Texas-based capacity
How will the tariff war with China affect U.S. container ports?
View More From this Issue
Latest Webcast
Leveraging the Internet of Things (IoT) in Manufacturing
Is digital transformation a risk or an opportunity? This webinar will detail Manufacturing industry challenges and how using IoT can address these challenges through optimizing logistics, improving processes and gaining meaningful insights.
Register Today!