Skechers: Optimized case handling
Skechers' new facility brings together automated storage, cross-belt sortation and conveyor to handle multi-channel order fulfillment from one system.

Latest News
Q4 2017 Rail/Intermodal Roundtable: Improvements apparent; work remains
The State of the DC Voice Market
Commtrex and Rockwood Steel study addresses operations gaps in freight railroad sector
Behind the Koerber Group/HighJump acquisition
Report: Amazon introduces new app for truck drivers
More News
Latest Resource
Maximizing Your Sales Team's Effectiveness
Companies need to examine how to restructure their sales team to respond to different customers and subsequent buying behaviors and preferences.
All Resources
By
Bob Trebilcock
·
December 1, 2011
Skechers USA, Rancho Belago, Calif.
Size: 1.82 million square feet
Products handled: footwear
Stock keeping units: 70,000
Throughput: 17,000 pairs of shoes per hour through pick and pack operations
Employees: 300 in operations
Shifts/Days: 2 shifts/5 days
Through the consolidation of five facilities into one, large and highly automated facility, Skechers is able to fill orders for its own retail stores, other retail and wholesale customers as well as direct-to-consumer Web orders.
Receiving: Located about 80 miles from Long Beach, Calif., the facility receives an advanced ship notification (ASN) detailing the contents of a shipment prior to the arrival of a container at the receiving dock (1). The contents of the floor-loaded containers are put on a belt conveyor (2) and a license plate label on the carton is read by a stationary scanner.
Inbound product can be handled in several ways. Some items will be automatically conveyed to a palletizing area (3) where the cartons are sorted by style, color and size. Preprinted pallet labels are applied to a pallet. An associate scans the pallet label and the product label to associate the products on the pallet with that license plate in the warehouse management system (WMS). Other items will go through a preliminary step before they are sent to the palletizing area. For instance, items that are new to the facility are routed first to a cubing and weighing station where information about the product is gathered for storage and shipping purposes. Other products may be routed first to an inbound quality assurance area (4). In either case, after that preliminary process is completed, the cartons will be conveyed to the palletizing area. Pallets are then staged for pick up by a lift truck operator.
Putaway: Once a pallet is staged for pick up, a task is sent to a lift truck operator. The WMS uses task interleaving to optimize processes, so a lift truck driver assigned to the task may also be doing replenishment activities. Pallets are delivered to a drop off location in the very narrow aisle rack reserve storage area (5). Turret truck operators are typically assigned to one, two or three aisles. The operator scans the pallet and is directed to a putaway location. Once there, he scans a location bar code to confirm the putaway and is then assigned another task by the WMS.
Picking: Skechers fills orders from several different retail channels. To the automated system, however, the process is the same. Depending on the order, product can be pulled from reserve storage (5) or from the mini-load AS/RS used to store loose picks (6). A loose pick is a partially full open carton that has already been used in part to fill other orders.
Mini-load picks: Loose pick cartons are conveyed from the mini-load to an induction station (7) for the cross-belt sortation system (8). The license plate bar code label on the carton is scanned by a stationary scanner in route. The SKUs and the number of shoes to be pulled from that master carton are displayed on a monitor. Shoe boxes are placed on an induction conveyor, where they enter the sortation system. The shoes are then sorted to a packing chute and delivered to the packing area (9). If the order doesn't require all of the contents of the master carton, it will be conveyed back to the mini-load (6) for storage.

Storage area picks: Items that can't be filled from the mini-load are retrieved from the reserve storage (5) area. The WMS assigns the task to an order picker who will pick the cartons to a pallet. Once all of the cartons for that task have been picked, the pallet is delivered to a case induction area (7) adjacent to the pallet building area. Once the pallet is scanned, the cartons are placed on an induction conveyor and are sorted to a packing chute area (9).
Packing and shipping: Pairs coming down a packing chute into the packing area (9) have already been cubed by the WMS, which determines what size shipping case to use for an order. That information is sent to the handheld scanner used by packers. The right size carton is removed from an overhead conveyor. Once the contents for that order are loaded into the shipping container, the associate scans a license plate bar code label on the container, the bar code label on the chute and then seals the container with tape. The outbound shipping label is automatically applied at a print-and-apply station. At that point, the carton will be handled in one of three ways.
Direct to shipping: Cartons that are ready to ship as is are conveyed directly to the shipping area (10) where they will be palletized and stretch-wrapped for Skechers stores or wholesale customers that order by the pallet. Everything else will be floor-loaded in an outbound trailer. The order is now ready to ship.

Value-added services: Other cartons will be sent to a value-added services area (11) on the mezzanine level where special labeling will be applied. From the value-added services area, the cartons will be conveyed to the shipping area (10) for palletizing or floor loading into a trailer.

Buffer storage in the mini-load AS/RS: Remaining cartons will be stored temporarily in the facility's second mini-load AS/RS, known as a pack and hold AS/RS (12) which provides temporary buffer storage for orders that are ready to ship before the customer is ready to pick them up. Once those orders have been cleared for pickup and delivery, they are conveyed to the shipping area (10) and loaded onto a trailer.
System suppliers
Systems integration: Wynright
Mini-load automated storage and retrieval systems: Daifuku Webb
Conveyor system: Automotion
Cross-belt unit sortation system: Beumer Group
Narrow belt shipping sorter: TGW Systems
WMS: Manhattan Associates
Lift trucks: Raymond
Bar code scanning: Psion
Pallet rack: Hannibal Industries
Cubing and weighing: Cubiscan

click here to download PDF article
February 15, 2012
About the Author
Bob Trebilcock Bob Trebilcock, editorial director, has covered materials handling, technology, logistics and supply chain topics for nearly 30 years. In addition to Supply Chain Management Review, he is also Executive Editor of Modern Materials Handling. A graduate of Bowling Green State University, Trebilcock lives in Keene, NH. He can be reached at 603-357-0484.
Subscribe to Logistics Management Magazine!
Subscribe today. It's FREE!
Get timely insider information that you can use to better manage your entire logistics operation.
Start your FREE subscription today!
Latest Whitepaper
Maximizing Your Sales Team's Effectiveness
Companies need to examine how to restructure their sales team to respond to different customers and subsequent buying behaviors and preferences.
Download Today!
From the November 2017 Logistics Management Magazine Issue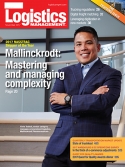 34th Annual Quest for Quality Awards: 2017 Awards Dinner
Trucking Regulations: Washington U-Turns; States put hammer down
View More From this Issue