Lift Truck Priorities: Building the lift truck of the future
Lift trucks used to be about brawn. The lift truck of the future will be about intelligence, automation, and software—and the future is closer than you think.

Bob Trebilcock
·
October 1, 2015
Surely you remember the line from the Planet Fitness commercial: "I lift things up and put them down." It's spoken by a brawny weightlifter with all the finesse of a crowbar to a windshield.
You might think of your fleet of lift trucks in the same way: all brawn, no brains. They pick things up and put them down. What could be simpler, right?
Think again. Today's lift trucks—and the lift truck technology on the drawing board—are anything but simple. Sure, lift trucks still pick things up and put them down, but they also collect a wealth of information about those lifts while tracking the performance of the operator and monitoring the mechanical and power systems. And, they are no longer machines unto themselves: The lift truck is now capable of communicating in real time with other warehouse and manufacturing systems.
As Brett Wood, chair of the Industrial Truck Association and president and CEO of Toyota Material Handling North America, puts it: "Lift trucks are becoming more connected…and we expect to see more automation and integrated solutions in the market."
To get a sense of what the lift truck of the future might look like, we spoke with eight industry players, including four lift truck suppliers, a battery manufacturer, a battery charger maker, an attachment manufacturer, and a provider of fleet management solutions. We asked them all a simple question: What are your priorities for the next one to five years—what is the project you're working on to take your product into the future? Here's what we learned.

Yale: Telemetry, vision and GPS
In an era of expanded digital networks, smart connected devices and integrated systems, businesses are turning to data-driven intelligence to guide decisions. "If you don't know about it, you can't fix it," says Mick McCormick, vice president of warehouse solutions for Yale Materials Handling Corp. "As information becomes increasingly important to fleet management, the availability of telemetry data is critical to improving efficiency and our customer's bottom line."
That is already apparent in telemetry programs that collect and transmit operational data, such as the Yale Vision wireless asset management system. While many facilities have yet to use fleet data to its fullest potential, improvements to its telemetry technology is among Yale's priorities for the future.
"Telematics offers the potential to build a more visible and quantifiable understanding of operations," McCormick says. "When applied to fleets of equipment, this data can help bring lower costs and competitive benefits to decrease a customer's total cost of operations." By monitoring a variety of metrics including idle time, safety procedures and impacts, the use of Yale's telemetry system can help operations manage costs, protect assets, and optimize productivity.
Yale also plans to add a satellite-based global positioning system (GPS) feature to its vision system. That feature will allow customers to know what their lift trucks are doing, where they have been, and any faults that have occurred. This will allow them to uncover insights about high-risk collision areas and route inefficiency, providing actionable real-time data that enables informed, responsive management decisions.
Cascade: Smarter attachments
Automation extends beyond the truck itself. Attachment makers like Cascade are also incorporating more intelligence into the products that extend the capabilities of the lift truck. This translates into smarter, safer, and more productive operations that simultaneously reduce product damage.
"The key is to enable lift truck and attachment systems to do more while minimizing decision making by the operator," says Martin Boyd, senior corporate marketing manager for Cascade. "That means more automation."
To get there, Cascade's R&D efforts are focused on what the attachment can do to gather more information about the products being handled, such as the clamp force requirements and load configurations, and then communicate that information to the lift truck. "We're working on improving the handshake between the attachment and the lift truck, where there have been some barriers in the past," Boyd says. "Those efforts will be the key toward achieving a true smart attachment in the future."
In practice, when an operator drives up to a load, the attachment would have the capability to automatically identify the characteristics of a product and adjust the clamp force to safely carry the load without damaging the product.
"We have Touch Force Control (TFC) technology today that is not fully automated, but makes it easier and more intuitive for the operator to visually identify the product and set the clamp force within two or three screen touches," Boyd says. "Down the road, the ultimate goal is for the equipment to do all of that automatically."
Jungheinrich warehouse products group: Driving picking productivity
We don't always think of the lift truck when we think about ways to improve picking processes, but with an explosion of stock keeping units in full pallet and case picking operations, order selectors are visiting more picking locations than ever, says Perry Ardito, general manager of Jungheinrich's warehouse products group for Mitsubishi Caterpillar Forklift America.
"In the past, an order selector would pick full pallets and bulk stack them for shipping," Ardito says. "Now, there are more than 140 different SKUs just for bottled water that have to be visited. There's a need to get the operator to all those pick locations as productively and efficiently as possible."
Five years ago, Jungheinrich introduced their Warehouse Navigation system that semi-automates processes once handled by the operator, even with an operator still on board. For instance, when a warehouse management system (WMS) sends an order to the lift truck for picking or putaway, the on-board navigation system determines the best path for travel.
Once the operator enters the very narrow aisle rack system, the navigation system takes over the operation of the truck to pick the right pallet from the right location. "The driver doesn't have to search for the pick location or level for the pallet," Ardito explains. "But, he is still there in case an adjustment needs to be made." The system feeds back information to the WMS for reporting and analysis. "We feel that as more people get a sense of the benefits that can be derived from semi-automated solution like this, they'll look to full automation in the future to get further benefits," he says.
EnerSys: The telematic battery
The growth of the electric lift truck market has been one of the biggest stories in the industry over the last five years. As a result, the battery that provides power during a shift is the most important asset on a lift truck.
"Once you've figured out the requirements for your lift truck, the efficiency of the power package has the most impact on your operations," says Lynda Stevens, director of information systems for EnerSys. "Our priority has been to work in parallel with emerging technologies like lithium ion and fuel cells to develop battery management tools that prolong the life of the battery systems currently in use on most trucks."
EnerSys is applying the same telematics used in fleet management to measure, monitor and report on the condition of batteries. "We can now look at how the battery is reacting to the work it has to do to understand whether a battery needs to be replaced because it is underperforming or needs to be tested because we see something is happening," Stevens says. Telematics solutions will also provide feedback that enables customers to optimize their battery charging, changing, and watering processes to extend the life of the battery.
In the near future, the data being collected from the batteries will be streamed to a cloud-based portal where it is analyzed for dashboard reporting with very specific KPIs that affect profitability and performance.
"A performance KPI can illustrate battery life and how it's trending," says Stevens. "If they want to look further into that, we can drill down into other areas for root causes, like how is the user discharging or watering the batteries." Ultimately, that information can be used to track efficiency across multiple facilities and to create an action plan and benchmarks to improve battery performance.
Crown Equipment: Automated decision making
Distribution centers are inherently chaotic places. There is constant movement—not all of it predictable­—as product moves from the receiving dock to the shipping dock. As those movements become more complex, a continuum of handling systems from manual, conventional materials handling to highly automated systems is created.
The lift truck is increasingly called upon to connect to those other systems to help bring order to the chaos. "What we're all trying to do is make the lift truck more efficient and add to productivity," says Jim Gaskell, director of global technology business development for Crown Equipment Corp. "There's a limit to that before you tear the warehouse down and completely automate."
InfoLink, Crown's telematics offering, provides tools to track what the operator is doing with the lift truck, including compliance, impacts and productivity, and performance of the fleet. That allows managers to make better decisions to optimize operations and their fleets.
In the next iteration, these systems will deliver information to the operators as well, such as indicators for excessive speed or impacts so that operators can modify their behavior without a supervisor getting involved.
Similarly, Crown has developed semi-automated solutions, like a special glove that allows an order selector to
remotely operate a pallet truck while walking up and down a pick zone. "If you're going to full automation, you're talking about the need to completely redesign a warehouse," says Gaskell. "But, there are still warehouses that can't make the switch to full automation. Our role is to create solutions, like QuickPick, that push the lift truck as far as we can go before going to full automation."
Delta-Q: Intelligent charging
The battery charger of the past was a dumb product. Basically, it had one function: To provide a one-way flow of energy from the grid to the battery. That's not meant to be an insult any more than some computer workstations are referred to as dumb terminals. But, in the context to the smarter lift truck, it could be apropos.
The next generation of chargers is as intelligent as the trucks they're charging. "As a charger manufacturer, we look at how we fit into the evolving picture of intelligence as a component of fleet management," says Ken Fielding, president and CEO of Delta-Q Technologies. "We not only have to deliver a quality charge day in and day out, we also have to capture and track daily charge events so that a user can learn things from the charge history."
The chargers Delta-Q is producing today are connected devices with storage and communication capabilities. Analytical capabilities are coming next. "We think that, over time, we'll be able to provide analysis that will help fleet managers with predictive maintenance," says Fielding. "For instance, if we're looking at daily charges and can identify volt levels that aren't being returned, we can pinpoint which cell might have an issue within the battery pack."
And, like the lift truck that can make automatic adjustments based on information it is receiving from a warehouse management system, Fielding sees a charger that can deliver a controlled charge based on the knowledge it builds up over time. "We're deploying a prototype this year with a two-way flow of information through the cloud," he says.
"We'll analyze the information we receive from these deployed chargers and then make recommendations about changes to the charger. Initially, the analysis and recommendations will be done by people. But over time, we expect to develop algorithms to automate the process."
Toyota Material Handling: Safety and productivity
Lift truck customers are looking beyond the purchase price to realize the true cost of ownership, according to Scott Carlin, electric product planning and product support manager for Toyota Material Handling USA. They also need to see the value of their purchase. This means looking at safety features, environmental performance, energy efficiency, productivity levels, downtime, maintenance costs, and more.
Carlin says that in the research and design process, safety remains a top priority for Toyota. "Ergonomics will continue to be emphasized as the operator's comfort plays a large role in productivity," he says. "Concern for the well-being of employees and the company's bottom line will result in forklifts being considered based on safety features and low operating costs."
Power is also top of mind. Toyota is introducing a number of new electric trucks, pallet jacks, and walkies this year and continues to investigate new power technologies, such as lithium and fuel cell batteries. And it launched its T-Matics solution to increase productivity and profitability, and create significant safety and operational benefits for forklift fleet owners.
Keytroller: Cloud-based accountability
Driver accountability has been an important component of fleet management systems for years, says Terry Wickman, president of Keytroller. "In the old days, anyone could jump on a forklift and drive it," Wickman recalls. "From the time we introduced our first system 20 years ago, we made sure that only trained and authorized operators had access to the equipment. Over the years, that's made a huge difference in the amount of product damage and end user experiences."
More recently, Keytroller added Wi-Fi camera technology to its solution that records up to 36 hours of continuous video and can be triggered by an event such as excessive speed, shutdown of the truck, or an impact. "If a driver has an impact, the system will capture the 20 seconds before and after the event and can e-mail it to a supervisor, who can review what happened," Wickman says. "It also allows an operator to capture images of an event, such as the condition of product that's being loaded or a load that's just arrived and is damaged."
The next step in the evolution of fleet management is to integrate indoor GPS technology into a cloud-based Wi-Fi technology that will enable a user to follow the movement of a lift truck inside a building in real time and track its location to within 5 feet.
"The system will build on the Wi-Fi camera technology," Wickman says. "An end user will be able to see when an operator picked up a load and where it was dropped off, all in real time." And, because of the GPS technology, a manager will be able to do post operations analysis to see if operators are taking the most efficient routes.
June 15, 2016
About the Author
Bob Trebilcock Bob Trebilcock, editorial director, has covered materials handling, technology, logistics and supply chain topics for nearly 30 years. In addition to Supply Chain Management Review, he is also Executive Editor of Modern Materials Handling. A graduate of Bowling Green State University, Trebilcock lives in Keene, NH. He can be reached at 603-357-0484.
Subscribe to Logistics Management Magazine!
Subscribe today. It's FREE!
Get timely insider information that you can use to better manage your entire logistics operation.
Start your FREE subscription today!
Latest Whitepaper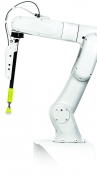 Warehouse Management Systems (WMS) / Inventory Management Technology: 6 Trends for the Modern Age
Here's how the next generation of warehouse and inventory management systems are evolving to help logistics operations operate more efficiently and improve their bottom lines in our brave, new digital age.
Download Today!
From the March 2018 Logistics Management Magazine Issue
Reverse Logistics in the "Age of Entitlement"
Logistics Management's Viewpoint on E-commerce: Leveraging available tools
View More From this Issue