Moving Europe Forward: Solving the urban logistics challenge
Our European correspondent offers U.S. shippers examples of how the logistics industry—hand in hand with government—has responded to the consumer demand for convenience, while keeping cargo flowing from the port of entry to the customer's doorstep in the most environmentally friendly and cost efficient way.

Dagmar Trepins
· October 1, 2015
Urban logistics has become a major issue in Europe just as it has in the U.S. According to a recent UN report, nearly 73 percent of the population in Europe and 82 percent in North America already live in cities. Rapid urbanization, increased traffic congestion and restrictions, changing consumer behavior, and the emergence of new distribution channels are challenging the transport and logistics industry.
With its dense population, historical cities with narrow streets, and shopping centers and other freight destinations tucked into the city centers, Europe faces special challenges for last mile logistics. Responsibility to nature and future generations, as well as expectations on the quality of life, require environmentally sound solutions that put innovative technologies for transport to work in an effort to reduce emissions and get freight off the streets to improve efficiency.
Over the next few pages we'll offer U.S. shippers some examples of how transport and logistics providers, ports, retailers, and local governments in Europe have responded to the consumer demand for convenience, while keeping cargo flowing from the port of entry to the customer's doorstep in the most environmentally friendly and cost efficient way.
Several innovative European urban logistics concepts have already been successfully implemented, while others are currently being tested in pilot projects or are still under development. All these endeavors show that the future of sustainable freight transportation is closer than we may think.
Bringing logistics back into cities
Europe's leading logistics service providers have developed successful urban logistics strategies to face these challenges. The French transport and logistics provider Geodis, for example, launched its first environmentally friendly distribution project in Paris in 2011, with electric vehicles and cargo bikes for deliveries in the city center.
The company continued its urban logistics strategy, with a focus on pilot cities where it's already well established and has good local expertise. "In 2015, we will be rolling out our Megacities project, providing eco-friendly services starting in Paris, Mexico, and Shanghai," explains Marie-Christine Lombard, CEO of Geodis. "An example is the road transport contract we recently signed with the BHV Marais department stores in Paris. The customer required a clean transport solution for supplying its stores in Paris, and we have provided an innovative solution using compressed natural gas."
Boasting the largest natural gas vehicle (NG) fleet in France, Geodis has devised a transport solution based on six road tractor units. Due to their dual-capacity gas tanks, these vehicles can carry out two days of deliveries (370 miles) before refueling. The NGV trucks are an alternative to gasoline-fuelled vehicles, with a 15 percent smaller carbon footprint and a 50 percent reduction of pollution.
Sustainable transport development
The Dutch city of Utrecht, with its historical center and narrow old roads, has suffered from noise and air pollution in the past. It recently developed two emission-free, urban freight solutions to tackle the problem: a waterborne electric vessel, dubbed the "Beer Boat," and the solar-powered electric freight road-based vehicle known as the Cargohopper.
The city introduced the two measures as part of its Action Plan Freight Transport in co-operation with CIVITAS MIMOSA, an EU initiative for supporting the implementation of integrated sustainable and energy efficient urban transport strategies in European cities. Utrecht, which has operated a diesel-powered canal vessel since 1996 to transport cargo to nearby businesses, developed the zero-emission electric boat in 2010 with an expected 30-year life span.
The Beer Boat makes six trips over four days, supplying food and beverages to local business along the canal. This B2B solution covers the last mile deliveries from four breweries and one catering industry wholesaler to more than 60 local stores. The boat can carry 18 metric tons of cargo and is equipped with a hydraulic electric crane to unload deliveries easily. In 2012, the city launched another electric multi-purpose vessel, called the "Ecoboat," mainly for collecting garbage.
The second CO2-neutral urban freight solution, the solar powered Cargohopper, was launched by the private transport company Hoek Transport. It's a multi-trailer, 16-meter long and 1.25-meter wide road train that provides critical last mile deliveries in the narrow, emission-restricted city area. It offers two-way freight services, mainly for parcels, from a distribution center to inner-city shops and companies. The three containers used are in fact separate boxes that can be loaded on and off the undercarriages by a forklift.
The containers are preloaded outside the city in the Cargohopper's distribution center and brought to the edge of the inner city by means of a regular truck. At a trans-shipment point there, the boxes are loaded onto the Cargohopper, which then takes care of delivery to shops in the central city.
When empty, it collects paper waste and packages from shops for recycling, thus avoiding empty runs. Based on the success of Cargohopper I, the second-generation vehicle, Cargohopper II, was introduced in 2011. It's capable of covering a wider area in and around the inner city of Utrecht.
The new green truck can accommodate pallets and roll containers and can be operated with a range of 124 miles and a maximum speed of nearly 40 miles per hour. Cargohopper reduces regular truck traffic by up to 62,000 miles, thus saving approximately 30 tons of CO2 on an annual base. Following successful operations in Utrecht and Enschede, the Cargohopper concept will also be expanded to other Dutch cities. Four emission-free electric trucks have been running in Amsterdam since 2014.
Underground into the city center
German engineering, with a vision for the future, was the driving force behind another innovative transport model called CargoCap, a groundbreaking idea of how to transport cargo into congested urban areas through underground pipelines.
This safe, economical, and environmentally friendly way to carry goods quickly and precisely timed is based on a new concept using individual "intelligent" vehicles—so called Caps—that are independent of above ground traffic congestion and weather.
Each Cap is designed to transport two euro-pallets, which are the most common load carriers in inner-European cargo transport. The pipelines, with a diameter of 2.0 meters, will be equipped with tracks for the Caps, a contact-free energy supply, information technology, as well as RFID transponders to track the Caps.
This project is the outcome of interdisciplinary collaboration at the Ruhr University of Bochum under the direction of Professor Dietrich Stein and supported by the Ministry of Innovation, Science, Research and Technology of the State of North Rhine-Westphalia. Engineers at the university have been running a 500-foot model test track since 2006.
The route of the CargoCap system consists of pipelines like those used in sewer systems, which will be installed under public streets, generally at a depth of about 26 feet. Construction is to be carried out underground by means of pipe jacking. This eco-friendly method is a standard technique in trenchless pipeline installation. Easy to install, these underground transport pipelines can connect industrial plants with logistics centers, retailers, and shopping malls.
Drones are taking off
While several innovative solutions have been developed to improve mobility on and below the roads, the sky will be also opened for new vehicles.
Drones are taking off in a fast way, not only in the U.S., where they are being boosted by the battle between Amazon and Google, but also in Europe. In fact, a couple of logistics service providers have started to test unmanned aerial vehicles (UAVs) for deliveries.
In September 2014, DHL launched initial operations for research purposes in Germany with its "parcelcopter" by delivering medications and other urgently needed goods to the North Sea island Juist at certain times of the day. In France, GeoPost has been exploring the potential of drone technology with its GeoDrone project since 2014.
In July 2015, DPDgroup, the commercial brand of GeoPost, introduced a delivery terminal as part of its French drone project to ensure the safety of parcel loading, take off, landing, and parcel release. In the spring of 2015, Swiss Post, Swiss WorldCargo (the airfreight division of Swiss International Air Lines), and Matternet, a logistics drone manufacturer based in California, joined forces to test the practical use of drones in logistics.
They developed a drone that is simple to operate and specially designed to transport small deliveries. The potential offered by drone technology for applications in logistics is diverse, ranging from delivery to peripheral areas to the express delivery of goods. However, experts in the region believe that there are various requirements that need to be clarified before drones can be used in urban areas.
The European Aviation Safety Agency (EASA) is drafting guidelines this year for the Commission's civil drone use proposal that will be handed over to the EU Commission by the end of this year. The European aviation community gathered in Riga, Latvia, in March 2015, and made a commitment to work together to create regulations that will allow businesses to provide drone services everywhere in Europe from 2016 onward.
Port of Hamburg gets trucks moving
The Port of Hamburg is a city port, and congestion to and from the port has a direct impact on inner-city traffic as well. To avoid traffic jams in and around the port, the Hamburg Port Authority (HPA) introduced its new "smartPORT Traffic Light" system in June of this year, developed by HPA and NXP Semiconductors. With the intelligent traffic lights, trucks are guided around the port more quickly, which also helps reduce CO2 emissions.
As part of the smartPORT, a special automotive wireless LAN communication system called Vehicle-to-X (V2X) allows vehicles to communicate securely and wirelessly with infrastructure elements like traffic lights, street signs, or road construction sites. An approaching line of vehicles can communicate with the intelligent traffic light to turn it green or keep it green, allowing the vehicles to pass the light without stopping.
In addition, radio frequency identification (RFID) technology allows the traffic light to identify road users in the vicinity and, as a result, send automatic hazard warnings to approaching trucks via V2X to prevent accidents.
"The intelligent port is a key component of the 'Digital City Strategy' adopted by Hamburg's Senate at the beginning of the year," says Frank Horch, Hamburg's minister of economy, transport, and innovation. "The technology currently being tested in the port by HPA and NXP will play an important part in making the port even more competitive and will add to the location benefits for the city of Hamburg."
E-mobility and cycle logistics
In the last several years, e-trucks have become an increasing part of the green fleets run by leading service providers. In addition, the use of cargo bikes to transport goods is also booming in many European cities. DHL is currently operating 55 cycle logistics urban delivery routes in 40 European cities.
Earlier this year, DHL introduced a new vehicle called "Cubicycle" to its fleet in the Netherlands, which is a quadracycle with a removable container that has a cargo volume of one cubic meter. TNT Italy recently launched a bike delivery service in Milan's city center—five bicyclists are responsible for ensuring deliveries within Milan's Area C, a designated traffic restricted zone.
TNT says that its fully human powered bicycles will replace the four vans that formerly served the area, generating an overall CO2 reduction between 50 kg and 80 kg per day. UPS is exploring the economic viability and environmental benefits of electrical-powered cargo bikes for package pickup and delivery.
UPS already uses battery-aided cargo bikes in Germany and has started a pilot project in downtown Basel, Switzerland. The historical city is an ideal testing ground for the new three-wheeled delivery vehicle.
"By using cargo bikes in a targeted manner, UPS aims to reduce inner-city congestion, noise, and emissions," says Philip Healey, marketing manager for UPS Switzerland.
In Copenhagen, where 40,000 cargo bikes are in daily use, the Copenhagenize Design Company has introduced a new concept to combine e-barges and bikes for cargo transport. This includes an offshore depot at the waterfront with locker modules to store packages before a fleet of cargo bikes carries out last mile distribution.
About the Author
Dagmar Trepins European Consultant
Subscribe to Logistics Management Magazine!
Subscribe today. It's FREE!
Get timely insider information that you can use to better manage your entire logistics operation.
Start your FREE subscription today!
Latest Whitepaper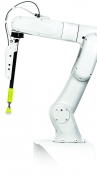 Warehouse Management Systems (WMS) / Inventory Management Technology: 6 Trends for the Modern Age
Here's how the next generation of warehouse and inventory management systems are evolving to help logistics operations operate more efficiently and improve their bottom lines in our brave, new digital age.
Download Today!
From the March 2018 Logistics Management Magazine Issue
Reverse Logistics in the "Age of Entitlement"
Logistics Management's Viewpoint on E-commerce: Leveraging available tools
View More From this Issue