Moore on Pricing: Increasing the intermodal mix
in 2012, the prudent shipper has to be looking for options to traditional long-haul trucking in an attempt to control costs and ensure that capacity is available to sustain operations.

Peter Moore
·
May 1, 2012
In 2012, the prudent shipper has to be looking for options to traditional long-haul trucking in an attempt to control costs and ensure that capacity is available to sustain operations.
Fuel prices continue to trend up, while large numbers of professional truck drivers are retiring or leaving the business according to the research firm Global Insight. In fact, their projection in 2005 of an ongoing shortage of over 50,000 drivers per year was only temporarily delayed by the recession and the extension of some careers by older drivers. The pain of a trucking equipment shortage has been avoided due to the growth in intermodal rail capacity, government tax incentives to buy new trucks, and a sluggish economy.
The first and most obvious option for shippers to control costs and ensure capacity is to find those lanes of freight movement that lend themselves to intermodal conversion. In many cases, the rates can be better while service is competitive. Choosing between truckload and intermodal services, however, is not as easy as either clicking highway or rail. There are a growing number of options to consider.
Intermodal usage is less dependent upon proximity to rail yards; in fact, many truck carriers have integrated rail into their key lanes reducing the role on short-haul draymen. And with more carriers and 3PLs able to offer intermodal, there's more of a chance for competitive negotiations—so explore the services of rail and highway carriers.
A second option for those with enough steady volume in established lanes is to contract for dedicated carriage.
Work a partnership with an asset-based provider that can enable the shipper to have transparency into key cost areas for the carrier and influence cost levers such as fuel, insurance, backhauls, and driver hours. Intermodal may be a part of the mix in dedicated carriage if the shipper and carrier work to bring other parties into the network—perhaps suppliers and customers at ideal locations. Any contract for dedicated carriage needs to be set up from a distribution model jointly developed between carrier/equipment provider and the shipper. A key question to start with is whether the equipment is running full in all directions.
A third option that is ready to take center stage is the other mode in intermodal: water. I'm referring to the avoidance of land bridge (transcontinental) land movements by using water.
While we've used the Panama Canal for decades, the capacity of vessels is about to jump significantly, thus freeing up long-haul rail and truck capacity. Shippers should be doing the planning now and seeking out those service providers who will be taking advantage of this new capacity.
However, with options we need tools. Today there are web-based modeling tools to do what-ifs on transportation. Shippers who have intermodal options or the density to support dedicated carriage are going to be able to expand their vision and that of their partners. There are asset-based and non-asset based providers who can bring these tools to the table.
Shippers need to step up their game in the face of higher highway cost drivers. Look at the network today and after the new Panama Canal opens. Look at the extended network of suppliers and customers that you work with; and most importantly, begin to formally model your options together with your partners.
May 4, 2012
Latest Whitepaper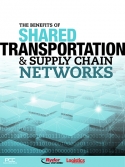 The Benefits of Shared Transportation & Supply Chain Networks
In this new digital issue, the editors of Logistics Management have gathered four feature articles designed to help mangers break away from traditional, "transactional" relationships and move toward integrated provider partnerships for freight transportation.
Download Today!
From the August 2016 Issue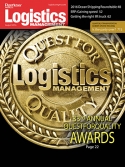 Megatrends in ocean freight
Ocean Cargo Roundtable: What's in store for 2017?
View More From this Issue
Latest Webcast
Getting the most out of your 3PL relationship
Join Evan Armstrong, president of Armstrong & Associates, as he explains how creating a balanced portfolio of "Top 50" global and domestic partners can maximize efficiency and mitigate risk.
Register Today!