2014 Ocean Cargo Roundtable: Mega carriers plying shifting seas
The P3 Network was nixed in June, and now the world's largest ocean cargo carriers are facing a vexing dilemma: how to reorganize global services and still make money. Meanwhile, shippers will be forced to manage other huge carrier partnerships during this peak season.

Patrick Burnson, Executive Editor
·
August 1, 2014
Ask a shipper, carrier representative, or industry analyst about what has changed in today's dynamic ocean cargo marketplace, and you're likely to get three very different answers. But there are also areas of agreement that can be just as valuable to logistics managers charged with the forecasting and procurement of freight services on the ever-shifting high seas.
Joining us in the our 2014 Ocean Cargo Roundtable discussion are Don Pisano, ocean cargo chairman for the National Industrial Transportation League and vice president in charge of imports for the American Coffee Corporation; Brian Conrad, Transpacific Stabilization Agreement (TSA) executive administrator; and Dan Smith, principal with The Tioga Group, Inc., a prominent industry consultancy. Here are their latest astute observations on the current state of the market.
Logistics Management (LM): While the P3 Network failed to materialize, the G6 collaboration remains on the table and there's talk of other carrier alliances being formed this year. What impact will this have on global shippers?
Dan Smith: The freshly announced Maersk-MSC vessel sharing agreement, called the 2M Network, is a good example of both a less ambitious strategy and of the carriers' determination to find economies of scale wherever they can. The more global G6 initiative may be followed by numerous lane-specific alliances and vessel sharing agreements (VSAs).
Brian Conrad: Vessel sharing arrangements are nothing new, but they've gotten larger due to the sustained overcapacity situation. Carriers ordered vessels based on assumptions of a quicker recovery in global trade growth and on the urgent need to manage costs through greater economies of scale.
Roughly a third of global container lines posted profits in 2013, most from cost-cutting, not top line growth. In the trans-Pacific, no major carrier operated profitably last year and the trade as a whole has seen only five profitable quarters in the past five years.
Dan Pisano: I agree with Dan and Brian, and add that increasing efficiency and cost-saving measures are in everyone's interest. For shippers, this means that collaboration—not manipulation—is the key moving forward.
LM: Collaboration between mega-shippers and carriers is also a consistent theme these days. Are beneficial cargo owners (BCOs) really calling the shots?
Pisano: Certainly in containerized shipping, volume matters. I'm not sure that translates into the mega-shippers calling the shots all the time, as there are always two parties to any negotiation.
Conrad: Obviously from a carrier perspective, the market dictates levels of service provided at a particular price point. Different carriers have different marketing emphases, some with an 80 percent BCO cargo base, others with 80 percent of their cargo mix tendered by intermediaries.
What's changing is that after a sustained period of financial losses in the container sector, carriers are under increasing pressure from their lenders, corporate parents, and government backers to at least be self-sustaining. This suggests that, as lines approach diminishing returns in their ability to reduce costs or increase efficiencies, the days of premium service at bargain basement rates are coming to a close.
Smith: BCOs or their agents, such as 3PLs and NVOCCs, can certainly call the shots if they choose, and should call the shots in their own interest. In this respect, "collaboration" might be a mild term for shippers exerting more influence past the negotiation stage.
LM: With the Panama Canal moving toward completion, will carriers be reconfiguring their deployments through 2015? Which ports are most likely to profit?
Smith: I would not expect to see any significant changes in deployments until the new locks are actually finished and have been operating for long enough to prove their reliability, which could be mid-2016. From every indication, carriers will increase vessel sizes cautiously to keep utilization high because the Canal fees are based on vessel capacity, not on how many containers are aboard.
There have been very few orders for new vessels in the neo-Panamax class. Carriers will cascade post-Panamax vessels in the 5,000 TEU to 7,000 TEU range from other services as traffic growth permits. Alliances will look for opportunities to combine volumes to fill larger vessels, but will have to reduce the number of services to do so. Some shippers may not like the tradeoffs.
Pisano: I expect some reconfiguring will take place, but the Suez Canal will remain a viable option for companies like ours shipping from East Coast ports.
LM: Some experts in the shipping community are also considering the proposed Nicaraguan Canal as a viable alternative. Any thought on how this might alter
carrier calls?
Pisano: It's not quite on our radar screen yet, and there a lot of obstacles to consider. It's projected cost is over $40 billion, and even if fully funded, it will take at least five years to complete. There's also mounting internal concerns in Nicaragua about jurisdiction, foreign influence, as well as environmental protection.
Smith: Actually, it seems unlikely that a Nicaraguan Canal could be financed, built, and operating in less than a decade, so the issue is highly conjectural. The announced route is longer than the Panama Canal, but more northerly. There are some port combinations for which this could be an advantage. Changes in port calls, if any, would likely affect the Caribbean transshipment ports.
LM: Considering all the issues shifting markets on the high seas, which trade lanes will capture most of the mega-carrier traffic?
Conrad: As of now, the largest ships on order are intended for Asia-Europe. Given the expected global overcapacity situation, it's also assumed that the ships that they displace in those trades will cascade into the trans-Pacific. So far, however, the average transPacific vessel size remains at around 8,500 TEU. This reflects overall size increases to the West Coast and all-water via Suez, mitigated by the Panamax limitation of about 4,600 TEU via Panama that will continue into early 2016.
Smith: The greatest single focus is on Asia-Europe, where the long distances produce the greatest economies of scale for the largest ships. Every carrier is trying to be a truly global carrier, either on their own or through alliances and vessel sharing agreements. That means that the mega-carriers will eventually try to bring big-ship economics to every lane that has enough volume.
Pisano: I agree with Dan. Shippers certainly see the trans-Pacific capturing some of this capacity eventually. The East Coast and Gulf ports are likely to start first, but we don't see any megaships being deployed in the north-south trade.
LM: Any thoughts on rates? What challenges will ocean carriers face regarding fuel prices for the remaining months of 2014? Are there other hidden costs shippers should be aware of?
Pisano: We expect ocean rates to be fairly stable through the end of the year with ample capacity to meet current demand. We don't expect fuel to spike unless we have a significant flare up in the Middle East. However, we're currently more concerned on the domestic front with truck availability and see prices trending higher.
I'll add that as a commodity importer, we're very concerned about mounting costs associated with government directed examinations and the future costs associated with complying with government regulations resulting from the Food Safety Modernization Act.
Conrad: Asia-U.S. freight rates have broadly stabilized at around 80 percent of their pre-recession levels in mid-2008, although within that longer-term trend there has been considerable short-term seasonal volatility.
Bunker fuel prices have stabilized as well, but above the $600 per metric ton level, which is historically toward the high end. Apart from fuel, container lines are operating leaner container fleets, more often leasing than purchasing equipment to reduce their asset exposure. Inland rail and truck rates are also rising in the U.S.
Smith: With all the publicity regarding fuel costs, there is not much hidden anymore. Bunker prices were on a roller coaster, and carriers were taking unusual steps and buying fuel in unusual places such as Eastern Russia to cope. The weekly fluctuations are large enough to have serious implications for carrier profitability.
The expanded emissions control areas off the U.S. and Canada will also require greater use of low-sulfur fuel, at greater cost. With excess vessel capacity, the carriers will have to rely on surcharges rather than overall rate increases to keep up with fuel costs.
LM: What strides are ports and carriers making toward fostering more seamless intermodal networks?
Smith: There are still a lot of seams in the system, and there are multiple initiatives working to iron out those seams. To be truly seamless you need both capacity and good connections. Some ports have some catching up to do, especially the East Coast ports hoping for new Panama Canal traffic. Those ports have been increasing rail and highway capabilities any way they can, with some good progress being made.
Other ports are increasing terminal capacity, either by building new terminals or rebuilding old ones. Long Beach, Oakland, and Seattle all have terminal improvements in progress or planned that will have to be matched by highway and rail capacity increases when those new terminals are ready. Perhaps what's most impressive is that every major U.S. container port recognizes the need for strong inland connections and is trying to fill that need.
Conrad: Indeed, continued progress on terminal automation will help, and here carriers will be looking to see what further improvements result from the new West Coast longshore contract. Larger ships are going to require improved coordination in loading and discharge, as well as faster turn times and expanded shifts to match trucks to equipment and move them on to inland connections or local destinations as quickly as possible.
Equipment interchange is another area where increased cooperation and communication are essential. Smoother handoffs and returns of well-maintained containers and chassis will go a long way toward reducing both delays and costs over time.
Pisano: I believe that lawmakers in Washington have finally realized that our infrastructure has been neglected for decades and that our nation demands long-term investment in ports, intermodal connectors, and projects that support the movement of goods.
June 15, 2016
Latest Whitepaper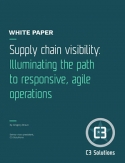 Supply Chain Visibility: Illuminating the Path to Responsive, Agile Operations
Supply chain visibility is not an end, but a tool. It is the means to achieving true supply chain effectiveness, agility and ultimately, corporate profitability.
Download Today!
From the December 2017 Logistics Management Magazine Issue
2018 Customs & Regulations Update:10 observations on the "digital trade transformation"
Moore on Pricing: Freight settlement and your TMS
View More From this Issue
Latest Webcast
2018 Rate Forecast
Join our panel of top oil and transportation analysts for an exclusive look at where rates are headed and the issues driving those rate increases over the coming year.
Register Today!