Making the TMS Decision: Ariens Finds Just the Right Fit
The third time is the charm for this U.S. manufacturer on the hunt for a third-party logistics (3PL) provider that could successfully combine transportation services and technology capabilities under one roof.

Transportation in the News
Rail Customer Coalition calls on White House to fill open STB positions
U.S. rail carload and intermodal volumes are mixed for week ending January 13
Problem Solvers Caucus report takes deep dive to address U.S. infrastructure concerns
Maersk and IBM roll out blockchain-based joint venture with a global trade focus
BTS reports a new record reading for Freight TSI
More Transportation News
Transportation Resource
2018 Rate Forecast
Thursday, January 25, 2018 | 2pm ET
All Resources
By
Bridget McCrea, Editor
·
November 3, 2016
On a mission to find a third-party logistics (3PL) provider that could not only manage its transportation needs, but also provide it with state-of-the-art supply chain technology, Ariens Company of Brillion, Wis., wasn't willing to settle for just any provider. Already on its third go-round with this exercise, the manufacturer of snow throwers and lawn tractors was hoping that the third time would be the charm.
For the five years prior, Ariens had worked with two different 3PLs that didn't exactly work out for the manufacturer. "We'd worked with one provider that offered transportation management and warehouse management in an all-in-one package," says James Merwin, vice president of supply chain. "It really wasn't a good fit for us and we weren't very happy with the results."
According to Merwin, a few of the key issues included poor interaction with the 3PL and the realization that Ariens was a "small customer" working with a very large provider. "We weren't getting the personalization, customization, or information that we needed from our 3PL," he explains, "so we went our separate ways."
In early 2015, the manufacturer started looking around for better options, with an eye out for a partner that could provide both transportation technology and connectivity with their warehousing partner. Here's an inside look at Ariens' journey, how it found a new 3PL/transportation management system (TMS) partner, the steps in the onboarding process, and the benefits the manufacturer is realizing from its decision to cut ties and move to a new provider.
Getting closer to end markets
With an 83-year history of making snow throwers and lawn tractors for commercial and consumer markets, Ariens is known for being the "official snow blower of Lambeau Field" and the "King of Snow." The company's primary markets for snow throwers include the Northeastern and Midwestern U.S., and Canada.
"We basically serve the entire snow belt," says Merwin. To do that, the company relies on two main distribution points in Wisconsin and
Pennsylvania.
For its lawn and garden business, Ariens makes zero-turn lawnmowers ranging from homeowner-sized machines to large commercial units as well as more traditional push mowers and log splitters. Those products are sold nationwide, with the bulk of orders going to the Midwestern, Eastern, and Southern states. Working under both the Ariens and the Gravely brand names, the firm makes its products in the Midwest (with roughly 80% of the goods made in Brillion, Wis. and Auburn, Neb.).
"All of that production moves through our DCs via a hub-and-spoke network approach," says Merwin. Along with the firm's primary DCs in the Midwest, it also has regional locations in Allentown, Pa., Gainesville, Ga., and Dallas.
A majority of Ariens' products are sold through individual dealers, with the remainder being sold through big box stores like Lowe's and The Home Depot. In most cases, Ariens uses less-than-truckload (LTL) to ship products to dealers, namely because "there are 1500+ dealers around the country that aren't big enough to consistently receive full truckloads of lawn mowers," Merwin explains. "They don't have their own warehouses or areas to store that much product, so we do a lot of LTL with them."
According to Merwin, using mostly LTL to ship via a hub-and-spoke network takes expert coordination and a keen eye for identifying cost savings and other possible efficiencies. "LTL'ing product from Wisconsin to all corners of the country and Canada isn't very cost effective," says Merwin, "so we push our products out in full truckloads to our regional DCs in order to get the goods closer to our end markets."
Optimizing the transportation network
To make sure Ariens' transportation network is always optimized and operating as efficiently as possible, the company now relies on the transportation management system (TMS) provided by its 3PL, Redwood Logistics.
Working with Redwood for about 18 months now, Ariens selected the 3PL based not only on its transport capabilities, but also for the fact that it offered a full-featured TMS that also incorporated warehouse management.
Merwin says he was impressed with the 3PL's willingness to customize, personalize, and adapt its systems to meet Ariens' specific needs. "From day one, they came in and walked us through their middleware, systems development, and ability to mold and shape the platform around our needs," says Merwin, "instead of trying to wedge us into an existing box."
From its new 3PL, Ariens was also looking for a solution that would integrate well with its existing systems. "We spent a lot of time with the warehouse management systems (WMS) provider and with Ariens' internal IT team developing the solution," says Steve Walton, Redwood's chief logistics officer. "We needed to ensure that data was flowing properly from the firm's enterprise resource planning (ERP) system and into the WMS and TMS."
Merwin says Ariens also based its selection on the new 3PL's analytics and reporting capabilities. "They're continually looking at our daily shipping activity, providing recommendations, and analyzing possible solutions," he says.
For example, knowing the expense associated with a high volume of LTL shipments, the 3PL will often make recommendations to better accommodate Ariens stocking or "booking" season—when the dealers and stores are "stocking up" for the winter or summer—and reorder season—when demand is high and the focus is on replenishment and filling customer orders.
"Those two seasons look very different from a visibility standpoint, and also from a shipment size/volume standpoint," says Merwin. For example, during the early part of the season, a dealer may book six truckloads of product for an order comprising 100+ snow throwers. The order may be spread over a few months, with just one or two truckloads shipping at a time.
That scenario changes dramatically when the winter hits and the same dealers need just 10 or 12 units at a time to replenish their stock. Figuring out how to effectively address both scenarios in the most efficient manner possible is an ongoing challenge for the manufacturer, which needs insights into the various transportation lanes and the cost-effectiveness of each. "That's where Redwood has really stepped up to the plate, and particularly during the booking season," says Merwin.
If, for example, Ariens has 20 truckloads of products going to 15 different dealers in the same geographical direction, Redwood's TMS helps it determine how to manage those loads in the most economical and service-oriented manner possible.
Merwin says that level of insight surpasses what any of Ariens' previous 3PLs have been able to provide. "It's been a completely different experience compared to what we were used to," he adds.
Inbound and outbound
Just 18 months into its new 3PL relationship, Ariens is already seeing real results from its choice to switch to a new provider. According to Merwin, the manufacturer is on pace to save about 2% of its total sales in freight costs compared to a few years ago.
"When you take 2% in sales out of a business' expense budget, that goes right to the bottom line," says Merwin. "That's a huge savings for us."
From its new 3PL relationship, Ariens also gained access to a team that's willing to "build the systems and take them as far as they will go," says Merwin. Looking ahead, he sees even more personalization in store for those platforms, and says he's confident in the 3PL partner's ability to meet those needs.
According to Merwin, this level of adaptability will be particularly important for Ariens as it explores the consolidation of its distribution points. "Right now, we have three Midwestern locations that we're consolidating into one large location," he says, a move that will open the door for Ariens to handle an increased level of consolidated material flow on the inbound freight side of the equation.
"Our 3PL has played a key part in this process and has already provided us with some reports and transportation validation of what makes the most sense for our approach for the future," says Merwin.
On the inbound side, for example, Merwin says that the company orders a high volume of engines, tires, seats, cables, and other products from outside vendors. To ensure a smooth process, Merwin and his team examine that inbound supply chain, analyze product flow into the warehouse, and strive to keep trucks running "full both ways"—as in, both leaving the plant with finished goods and coming back with inbound materials for production.
Speaking to other shippers that are looking to leverage their 3PLs' technology platforms and analytics capabilities, Merwin says that the best approach is to find a provider that's willing to bend and flex to meet your needs. "Find a partner that will truly be invested in your company's mission and success," says Merwin. "If you can find a 3PL that will personalize and customize it instead of just 'shoving' you into its box, it'll be a true win-win."
November 3, 2016
About the Author
Bridget McCrea, Editor Bridget McCrea is a Contributing Editor for
Logistics Management
based in Clearwater, Fla. She has covered the transportation and supply chain space since 1996, and has covered all aspects of the industry for
Logistics Management
and
Supply Chain Management Review
. She can be reached at
[email protected]
Subscribe to Logistics Management Magazine!
Subscribe today. It's FREE!
Get timely insider information that you can use to better manage your entire logistics operation.
Start your FREE subscription today!
Latest Whitepaper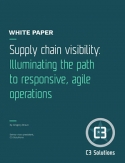 Supply Chain Visibility: Illuminating the Path to Responsive, Agile Operations
Supply chain visibility is not an end, but a tool. It is the means to achieving true supply chain effectiveness, agility and ultimately, corporate profitability.
Download Today!
From the December 2017 Logistics Management Magazine Issue
2018 Customs & Regulations Update:10 observations on the "digital trade transformation"
Moore on Pricing: Freight settlement and your TMS
View More From this Issue
Latest Webcast
2018 Rate Forecast
Join our panel of top oil and transportation analysts for an exclusive look at where rates are headed and the issues driving those rate increases over the coming year.
Register Today!